Musée du Luxembourg, Paris
Exhibition : February, 21th – July, 21th 2013
---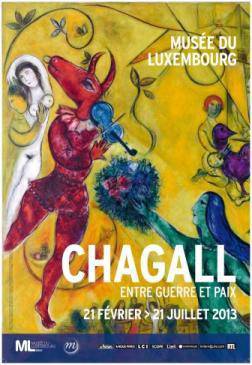 Affiche de l'exposition Chagall © affiche de la Réunion des musées nationaux – Grand Palais, Paris 2013
Marc Chagall was nearly a hundred when he died in 1985.
Chagall had crossed most of the 20th century, living through one revolution, two wars and a period of exile, and rubbing shoulders with some of its most avant-garde artists. His personal experience of History, the memory of people he knew, his travels and his homeland shine through in his work.
Twentieth-century art largely repressed allegory and narrative. It was because Marc Chagall did not follow the rules and codes (or even dogma) of modernist thought, while drawing nourishment from it, that he was able to stay figurative and bear witness to his time. He borrowed some of the forms of the avant-garde movements (Cubism, Suprematism, Surrealism) and sometimes seems to come close to them, but in the end remained independent. The parallel between the images of war and the images of peace reveals the complexity of an oeuvre which can never be reduced to a particular genre, but enfolds events, situations and the artist's feelings. Depending on the circumstances, Chagall comes back to a few themes, enriching them each time with a personal dimension: his home town of Vitebsk, the Jewish traditions of his childhood, episodes from the Bible, including the Crucifixion, the couple and family life.
The exhibition brings together some hundred works from museums in France and abroad: Centre Georges Pompidou, Musée national d'art moderne /Centre de creation industrielle, Paris; Musée d'Art moderne de la Ville de Paris; Musée national Marc Chagall, Nice; Museum of Modern Art, New York, Philadelphia Museum of Art; Moderna Museet, Stockholm, State Tretyakov Gallery, Moscow, Folkwang Museum, Essen, and the Albertina, Vienna, and from private collections.